Description
Charli D'amelio Iced Coffee Hoodie Black
Add a hint of warmth to your regular closet with this awesome hoodie. Reach for this hoodie whenever you feel like you need an additional layer for your standard shirt, and style up with your number one pants or a comfi sweatpants for an effortlessly cool look.


Wear this in different occasions. They are warm and they fit completely well with any clothing you decide to wear. Appropriate for easygoing style either at home or at work, open air exercises and sports. A must-have merchandise ideal for both Charli D'Amelio's fans and Hype House fans.

Be a street style star and have a more relaxed feel with this comfy hoodie.
Made with high quality polyester, lightweight, thickness, soft, comfortable and good air permeability.
Design Inspiration comes from Charli D'Amelio.
The unisex sweatshirt sweater features beautiful 2D printing technology and is popular with children and adults.
A good gift for Charli D'Amelio fans or hip pop fans.
Color:Black
Size: XS,S,M,L,XL,XXL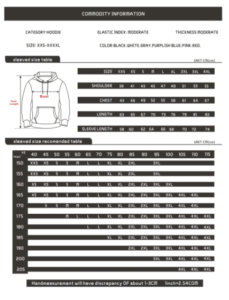 Charli D'amelio Iced Coffee Hoodie Black