Description
With this funny pregnant T-shirt, announce that a new little being will come to enlarge the family.
Beyond their originality which will bring an offbeat touch to your style, these T-shirts are very comfortable to wear!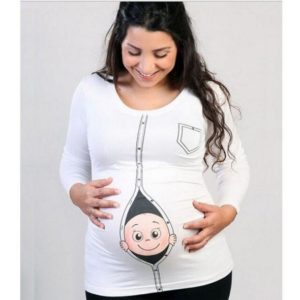 We love this printed, stylish and modern pregnancy t-shirt that you can absolutely buy to wake up your future mom look.
Thanks to its cut which is worn close to the body on the top then flared at the base, this top for future mother will bring you an optimal ease during all your pregnancy.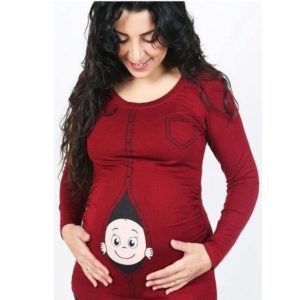 With a round neckline and long sleeves for an ultra feminine look. So cute.
You will appreciate it more with jeans or a skirt for your daily life. An original idea to offer or to offer yourself!
Technical sheet :
Material: Cotton Polyester
Size: L XL XXL XXXL
Package includes: 1 pcs
Soft and cute material
Department name: Maternity
Sleeve length (cm): Full
Collar: O-neck
Material: cotton, polyester
Pattern Type: Print
Funny T-Shirt Maternity & pregnant