Description
FORGET THE HASSLE OF DECORATING YOUR CHRISTMAS TREE!
This Amazing Pull Up Christmas Tree is the solution for you . 
In less than 5 minutes, you can already display a decorated tree in your family room, without the mess and hassle and hours to waste. Assembling the Pull up Tree is as easy as 1, 2, 3, literally…
Just follow these 3 simple instructions:
1. Assemble the posts for a stand
2. Pull up the Christmas tree
3. Place on the first-assembled stands and plug in an outlet
Presto! You have a completely enriched Christmas tree.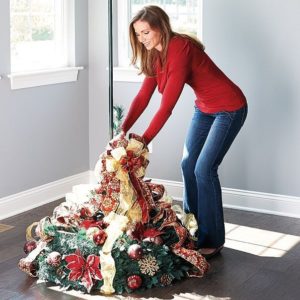 Decking the halls doesn't get much easier than this pull up Christmas Tree with lights comes fully decorated with ribbon,  shatterproof ornaments,  glittery snowflakes,   bows & warm yellow lights.
Finally, after the festivities are over and it is time to pack up again, less than 5 minutes is only needed to clean up and put the pre lit pull up Christmas Tree back to its box. It can also save space, as you only need to store it in one area with no other boxes labeled as Christmas Decorations, Christmas Light and Christmas Tree. One container is all it takes!
This pull up fully decorated Christmas Tree includes lights, decors and garlands. So for those of you who will be having relatives over this season and do not really enjoy shopping and squeezing for the best prices with other shoppers in the malls, this is the tree for you!
In our day and age, practicality counts. Try the Flat To Fabulous Pop up pull up Christmas tree and enjoy more time catching up and sharing stories with your loved ones instead of getting dusted, tired and drenched in sweat while preparing it.
We as a whole agree that as joyful as the special seasons may be, it is likewise tiring and distressing. Treasure your time, cherish the moments of Christmas and have a hassle free one. So cross out one of those chores by getting yourself your own Flat To Fabulous Pop up pull up Christmas tree now!
MERRY CHRISTMAS!
You can also visit : twerking Santa
FREESHIPPING ! 
Comes fully decorated with 100 clear incandescent lights and 60 ornaments

Pull-up design makes storage and setup easy

Ideal for small spaces 
Simply lift it up, assemble the stand and plug it in for a beautiful display. Collapses for easy storage .

Iron, plastic and styrofoam
Flat To Fabulous Pop up pull up Christmas tree