Description
The new trend in women! This invention will undoubtedly improve the lives of many people.
This towel on the particularity to solve the problem of perspiration under the breasts. Get yourself and say goodbye to sweating.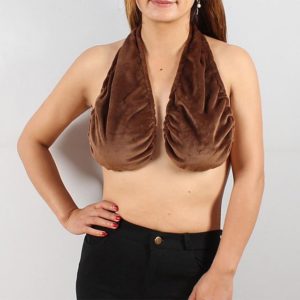 She was around the neck like a scarf and with the fabric.
Erin Robertson, winner of the latest edition of Project Runway, the towel solves the problem of sweat under the breasts.
Whether you are at the spa, the gym or just at home, this towel will become the new best friend of your breasts
Ideal for pregnant or nursing women, as the interior is made of fibers that protect sensitive nipples and absorbing the milk that might leak.
Features:
Item Type: Towel
Gender: women
Form: Solid
Bra style: 1 piece, push up
Closing type: None
Media Type: Wireless
Model Number: S, M, L, XL
Material: Cotton, Silicone
Shape of the cut: complete cut
Brand: Gifts
Style: Sexy
Strap type: shoulder straps, fitted shoulder straps
Decoration: Wall lights
Sexy Women's Sports Towel